Conception Bay Family Resource
Serving communities from Topsail to Makinsons
Funded by the Department of Education
Last Annual General Meeting November 18th, 2021 6:30 pm by ZOOM
Annual Report for April 2020-March 2021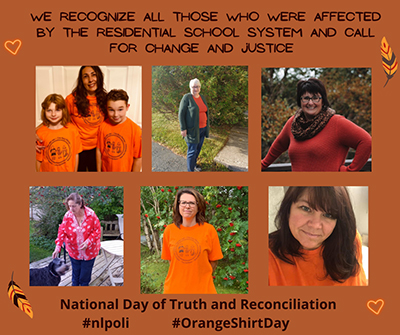 Letter from Chair Debbie Hollett
The CBFRP has been open for nine years and has grown a lot over this time. We run programs from Topsail to Brigus, with six staff and offer twenty-five programs weekly from seven sites. I would like to welcome you all to the Annual General Meeting for this year; this meeting covers the 2018-2019 programming and financial year. Our vision for the next year includes promoting and further developing the Healthy Baby Club for pregnant mothers, offering more programs in Brigus, and enhancing our parent education program. Last, but by no means least, I would like to thank to staff, and the Board for all their work over the last year. It has been a hard year with all the changes; we are ready to move onwards.
Agenda
Welcome
Review and Approval of Agenda
Review & Approval of November 2020 AGM minutes
Present Board and Staff
Thank you to past Board members
AGM Report April 2020-March 2021
Financial Statements Apr. 2020-Mar 2021
Continuing Board Members
Adjournment
What is a Family Support Program?
Family support programs are community-based organizations working with children, families, and caregivers to enhance strengths, to build capacities and to promote healthy development.
Family support programs deliver a range of services guided by principles that focus on building supportive relationships, facilitating growth, respecting diversity, and furthering community development. Family support programs vary depending on their size, mandate, and resources. Services are flexible, accessible, and offered in an informal atmosphere. These services may be provided in partnership with other groups. Family support services include:
child development
community development
community outreach
drop-in programs
early learning and care
family literacy
food and nutrition support
parent/caregiver support
parent education support
peer contact and mutual
play and recreation
promotion of health and safety
referrals to other resources
toy lending
Current Board of Directors
Debbie Hollett

(Chair)

Melanie Doyle

(Vice-Chair)

Jennifer Colbourne

(Secretary)

Christa Skinner

(Treasurer)

Mary Walsh
Christine Butler
Amanda Rees
Julia McPeake
Krista Newhook
Kathy Brett
Sarah Eddy
Message from the Executive Director
Wow, another year we never could have imagined.
The parents, children, and staff have risen to the challenge of programming within COVID times and continued with planning and attending very successful groups. The resilience shown by the staff at CBFRP has been inspiring to see. Their creativity and support of parents, caregivers and children has been an example to us all. Families just "went with the flow" and came to outside, some inside and virtual programming as though they always had. I hope we can move on to new things in the next year and keep some of the "GOOD" things we have seen in the last year
Deborah Capps
Current Staff
Deborah Capps

(Executive Director)

Carol Ann Cantwell

(Administrative Assistant)

Patricia Care

(Program Coordinator)

Angie Kinsella

(Program Coordinator)

Tina Reynolds

(Program Coordinator)

Sara Eddy

(Healthy Baby Club Coordinator)
Partners
Dep. of Education
Town of Conception Bay South
St. Edwards School
Eastern Health
Roncalli High School
Town of C.B.S.
Dominion Store, C.B.S.
Town of Brigus
Town of Holyrood
Topsail United Church
Holy Cross Parish of Holyrood
Admirals Coast Retirement Home
Programs Offered
Drop In Playgroup
Healthy Baby Club
Mother Goose
HBC Walking Program
Speedy Sprouts
Busy Bakers
Baby Bundles
Tiny Tots
Book Club
HBC Playgroup
Seedlings
Bits and Bites
Craft Group

Conception Bay Family Resource Program has been offering Family Resource Programs and Healthy Baby Club for nearly ten years.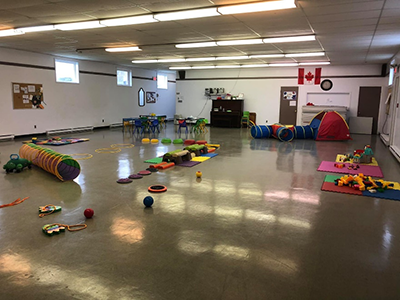 Who We Are
The Conception Bay Family Resource Program:
Welcomes all families
Is a resource for the community
Is committed to the healthy and development of children and families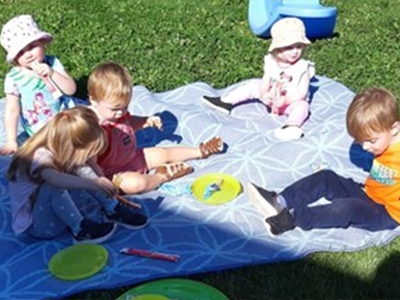 What Happened in 2020-2021?
April 2020
Letter writing to families
Easter activities online for families
Art bags for families
May 2020
Made over sixty face masks for families
Mother's Day games online and prizes
Annual Report submitted to Provincial Government
Dressed as T-Rex for Mother's Day and waved to cars
Posted crafts and activities for families to do at home
Association of Early Childhood Educators, Town of CBS and CBFRP recognized ECE week
Posted COVID information and resources
New HBC Coordinator started with CBFRP
June 2020
Father's Day was celebrated online
July 2020
Summer programming continued outside
Summer Jobs Canada person was hired
Gardening program worked within all outside programs
August 2020
Summer programming continued outside
September 2020
AED purchased for the centre with a donation from Eagle Construction
Outside and online (Bits and Bites, Busy Bakers, Book Club) programs continued
Grandparents Day post, games, and prizes
October 2020
Halloween costume donations and give aways.
Halloween fun outside in Playgroups
Veggies picked from garden
Offered help for Thanksgiving dinners
November 2020
Posting information daily</1li>
Offered help to families for Christmas
December 2020
Christmas activities at each site for families.
Christmas games online and prizes
Staff Christmas activity day
Christmas/Winter Storytimes by Deborah and Patricia
January 2021
Many programs reached capacity of 40%
Fast Track nursing students on Virtual placements until April
February 2021
Another Lockdown happened
Pink Shirt Day staff collage and posts
Mailed Valentine's to children
Family Literacy Day posts and prizes
Rare Disease Day posts and information
March 2021
Storytime online and felt rhymes
St. Patrick's Day posts and activities
Little Free Food Pantry set up at Centre (Patricia and her dad)
Virtual Busy Bakers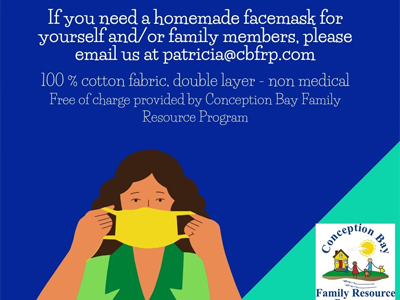 Conception Bay Family Resource Program Abuse Prevention Policy
The Conception Bay Family Resource Program (CBFRP) aims to educate, nurture, and support the families of children, aged 0-6, by delivering programs and services in an environment that enhances parent learning, promotes positive interaction between parent and child, and enriches the family's overall health and well-being.
-All children have the right to be protected and to be safe. In situations where it is suspected that children are being harmed or abused, we respond with our legal "DUTY to REPORT."
Definition of Abusive Behaviour:
Child abuse is any form of physical, sexual, or emotional harm or neglect, seeing and hearing violence, or being left without adequate supervision.
Prevention Strategies:
CBFRP provides a warm, safe, and inviting environment for parents/caregivers, children, and their families. Prevention strategies are developed to support children and their families, to enhance their capabilities, and to support empowering approaches within families. At CBFRP,
There is a complete needs assessment conducted including fire and environmental safety assessments, physical environmental scans, workplace health and safety assessments, and building/personal safety checks.
References for all staff job applicants, Board members and other volunteers are collected, including a Certificate of Conduct.
There is a comprehensive policy manual for staff, board, and volunteers. It includes safety policies for children, parents, staff, and Board/Volunteers, as well as orientation and training for staff, indicators of abuse, when to report, role modeling of appropriate behaviours, and supports available for staff, parents, and board members.
-Programming and supports with prevention themes for families of children, aged 0-6 are offered through CBFRP.
CBFRP's Response Protocol will be included in all staff, board, and volunteer training.
If a response must be made, parties are required to report, "act within the moment" and report as soon as possible, do no harm, and are not to investigate. Self-care for the staff member or person making the report must be kept in mind.
After reporting suspected abuse, the Executive Director or designate must be informed. There should be debriefing completed, as necessary.
There can be a request for follow-up and a plan communicated to the Social Worker, but this may not be possible or appropriate.
Communication Strategy:
CBFRP recognizes the importance of a strategy to communicate with staff, Board, Volunteers, parents/caregivers, and community partners regarding our Abuse Prevention Policy. Efforts will be made to,
Include the Abuse Prevention Policy in all staff, board and volunteer training and orientation packages.
Provide families, partners, and others in the community with information through welcome packages, posters, AGM Annual Reports, and the "Safety Boards" at all sites.
Use a multi-media platform, whenever possible, to communicate with Partners and the Community. Partners will also be kept connected through Memorandums of Understanding and the Annual Report. Funders will receive the Abuse Prevention Policy with the Annual Report, and CBFRP Work Plan.
Asserting/Ensuring Understanding:
CBFRP will ensure that the Abuse Prevention policy is,
understood and used
used to enhance a safe and inclusive culture
utilized in a shift to prevention programming
Overall Program Participation
Number of participants who participated in at least one program during April 1, 2020-March 31, 2021.
Number of families registered/Signed in Overall
Average # Parents or caregiver/Total Par/Total Visits
Hub
152/203
236/323
Individual Satellite Sites
110/419
106/291
Satellite #1 Avondale
11/12
3/5/26
Satellite #2 – Parsons/Rotary C, Seal Cove
2/3
3/3
Satellite #3 – Topsail United Church
15/38
10/15/48
Satellite #3.5- Manuels River Walking Trail
36/154
20/187
Satellite #4 – Holyrood
27/69
10/27/71
Satellite #4.5 Holyrood
Virtual Bits and Bites
12/44
6/12/44
Satellite #5 – Brigus Recreation Centre
16/28
3/5/43
Satellite #6– HBC Playgroup Kelligrews/Was St. Edwards
16/71
8/16/73
Satellite #7- Admirals Coast Retirement
(Mother Goose Program)
Satellite 8 Parson's Rotary
2/3
2/3/3
TOTAL
262/422
/509
Program Overview Vision
To foster and support the positive development of children and their families
Mission
The CBFRP exists to educate, nurture, and support the families of children primarily ages zero to six years of age work toward their potential by delivering programs and services in an environment that enhances parent learning, promotes the positive interaction between parent and child and enriches the family's overall health and well-being.
Goal
To provide safe, non-judgmental, and culturally sensitive community-based programs for children primarily ages zero to six years of age and their families with a main focus on fostering healthy environments for children and their families and supporting healthy development and well-being.
SOME OF THE STAFF TRAINING
Standards of Quality for Family Strengthening and Support
Anxiety and Stress: Optimizing Child Wellbeing
Autism and Strategies to help Children
The First Play Summit
Infant Mental Health Certificate program
Early Childhood Development in Times of Pandemic
COVID 19 Work Safe Practises
Re-opening- Trauma Informed Practice
CBS Family Resource Program
P.O. Box 14235 Station Manuels
Conception Bay South, NL
A1W 3J1
Fax: (709) 744- 3392
www.cbfrp.com
974 Conception Bay Highway
Kelligrews
A1X 6Z6